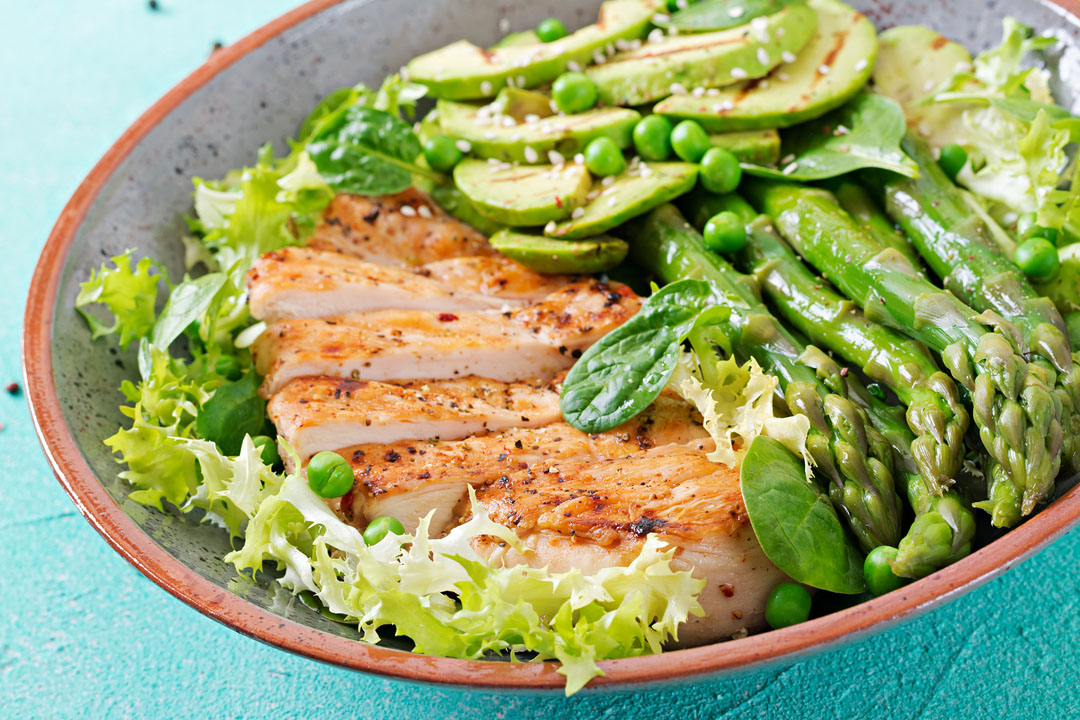 Fresh, salty, and oh so delicious are the makings of this delectable, healthy grilled chicken salad. Plus, its ingredients are packed with amazing health benefits and three foods listed on the Clean Fifteen list. Here are a few reasons we're loving this filling, nutrition-packed dish:
Asparagus is a natural diuretic and a great source of nutrients, including fiber, folate and vitamins A, C and K.
Avocados are rich in monounsaturated fats, which lowers LDL (bad) cholesterol levels and helps reduce the risk of heart attack and stroke.
Peas are a great source of vitamins C and E, zinc, plus they have other antioxidants that help strengthen your immune system.
And the spinach and arugula mix is a great base to get some dark leafy greens into your diet.
Add in some bacon (because everything is better with a little bacon), and this ill be a go-to item for this year's lunch and dinner menus. Plus, it will help cross off a lot of those tasty cravings you may have with its crunchy, slightly saltly goodness… and it can be served both hot and cold!
[tasty-recipe id="46531″]
Want to find more foods and recipes featuring the Clean Fifteen and Dirty Dozen?
Take a look at these produce shopping guides – the Clean Fifteen and the Dirty Dozen – to load up on the "cleanest" fruits and veggies for your family. Remember the Clean Fifteen feature foods that have been tested to have the least pesticide residue while the Dirty Dozen are foods that have been found to have the most and should be swapped out with organic produce when possible. Read more about it here then check out the many healthy recipes available right here on alignlife.com.
*Recipe inspired by and adapted from Pinch of YUM Chicken Bacon Avocado Salad